What Seniors Can Enjoy Doing Indoors?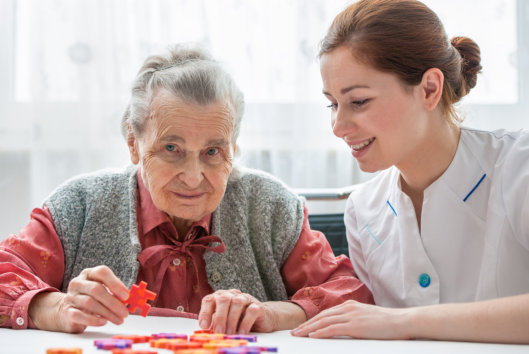 To some seniors, going outdoors can take its toll on their body. They may just find more relaxation indoors than taking the time to prepare themselves for some quick trip. However, while outdoor activities are vital for a senior person's overall well-being, it's also important to ensure that their indoor activities are beneficial to their health.
Our nursing assistants can help keep them company when they choose to age at home so their daily activities are supervised for their health and safety. Along with that, we also recommend the following indoor activities that are easy to do for seniors and are helpful for every aspect of their health
GAMES (Puzzles, Card, or Board)

One of the very senior-friendly games involve cards and boards, such as chess or scrabble. These kinds of games are fun to play with against another person or persons. Furthermore, these also help nurture their mental skills of thinking, analyzing, remembering, and decision-making.

WATCHING MOVIES

It can also be a relaxing activity to watch movies that they have loved in their younger times. This can also enhance their memory, which is vital for their aging years. Home care service provider in Fairfax, Virginia can help them enjoy this time by preparing healthy snacks they can munch while watching.

ARTS AND CRAFTS

Seniors are also creative. They can take the time to unleash their creativity when they're given the chance to do so. One example is painting, which they can turn into a hobby they will surely enjoy. Along with that, their eye-hand coordination can be also improved.

RELIGIOUS GATHERINGS

While this is not for all seniors, your aging loved one might prefer this. Host a regular religious gathering at home so they can connect with their friends in the religious community they're part of.

DANCING

When seniors can't go outdoors to exercise, that's not a problem. They can dance indoors and do this alone or with fellow seniors. When they're receiving healthcare services in Virginia, the care assistants can also keep them company to ensure they have not worked out too much.

READING

The discipline of reading can bring a wide store of knowledge to a person. It can also inspire and uplift them when they're reading inspiring literature. Ensure that your aging loved one has the books or reading materials they want to read every day.

COOKING

For seniors who enjoy cooking, this can be a great activity for them to do every day. Not only will their sense of independence be affirmed, they can also feel more involved in the activities at home.
When your senior loved one is in need of care and assistance at home, we'll be right here to help you out. At Gateway Healthcare Services LLC, we have highly qualified team who can support you in these care needs so that you can also have a quality life as regularly as necessary.
Encourage a senior loved one with this post. Tap SHARE!