Blog
Becoming Your Loved One's Eyes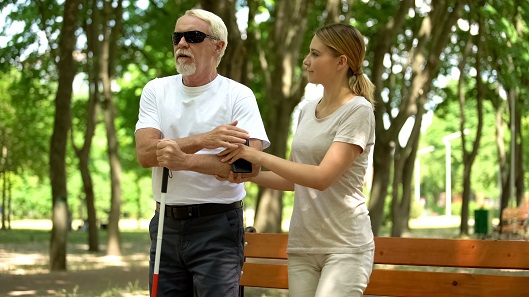 Can you imagine going out of your home, riding public transportation, and picking up items from a grocery store without seeing anything? It's challenging and exhausting.
Therefore, losing vision or being born without no idea of what the world looks like is not just complicated and tiresome. Now, think about your loved ones with vision impairment who are not availing of the healthcare services in Fairfax, Virginia. How do you think they handle everything with such limited abilities?
Despite the availability of technology everywhere we go, there are only a few resources and access for visually impaired people. Stairs are also their problem because some ramps are unusable and inaccessible.
They have limited access to information, such as the internet, maps, and street signs. Most items do not have a braille alphabet system on them. They lack a source of entertainment– they cannot read books as most do not have braille alphabets, and there are limited activities targeting the visually impaired. Lastly, there are insufficient jobs available for them.
With so many limitations hindering their activities and risking their safety, it is crucial that they have someone to lean on, specifically a professional home care service provider in Virginia. Professionals from this industry, especially the ones from Gateway Healthcare Services LLC, are trained to provide compassionate and competent assistance.
From home health services to any assistance for your loved ones, they can always be relied on.
You can expect our professionals to provide your visually impaired loved ones with quality developmental disability services. We ensure to discuss what your loved ones need best so we can provide the best assistance.
If you require our personal care or any services, you can always reach us.