Benefits of an In-Home Companion for Your Senior Loved Ones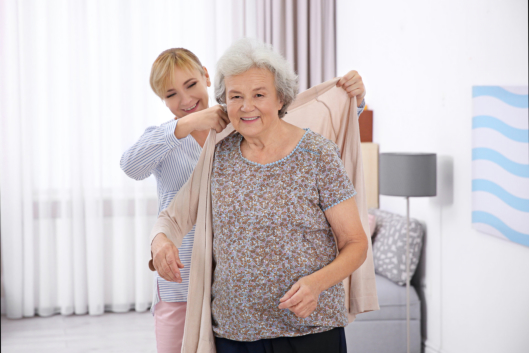 A healthy and happy life for seniors entails proper diet and nutrition, a good amount of sleep and exercise, and, of course, having a stress-free lifestyle. However, did you know that your elderly loved ones can greatly benefit from having a companion in their day-to-day life?
Even with the right healthcare services in Fairfax Virginia, your elderly loved ones would also need social interaction and companionship in order to achieve and maintain a positive disposition, and therefore, an overall healthy and happy life.
Studies in geriatric care over the years have shown significant benefits brought about by companionship for the elderly. If you and your loved one have opted for non-medical home care service in Fairfax Virginia to provide your beloved elderly with the daily care and assistance they need, then you should also consider the benefits that in-home companionship can offer:
Prevents Falls and Accidents
Besides keeping your senior loved ones socially active, a companion could also serve as a care provider who can help and assist with various personal tasks and activities. Having a companion for your elderly loved ones can lower the risk of falls and accidents resulting to injuries, as they will have someone watching over them to make sure that they are safe.
Lowers the Risk of Alzheimer's Disease
When seniors are interacting with other people and are engaged in a conversation or stimulating activity, their cognitive skills are functioning. Keeping their minds constantly active is a good way to prevent Alzheimer's disease, which is a disease that causes memory lapses and cognitive deterioration. Having a companion whom your senior loved one can talk to, play games, or perform activities with helps to enhance their memory and keep their minds active.
Lowers the Risk of Coronary Heart Disease
Seniors tend to feel anxious, frustrated, or even depressed about their current state, as the daily routine and activities they used to do for years are now changing due to retirement and their advanced age. Emotions like these can contribute to major stress, and eventually, to coronary heart diseases. Having a companion with whom they can interact with, talk to, and share activities with on a daily basis can prevent these emotions—lowering the risk of coronary heart disease.
Provides a Sense of Security and Comfort
An in-home companion can give your senior loved ones the sense of security and comfort they need, for they will be assured that their companion is present to constantly check on their health and safety. They will also have someone whom they can ask for help or assistance in the various personal and homemaking tasks, and of course, a friend who they can talk to, play games, or share their interests with.
Gateway Healthcare Services LLC is a trusted provider of non-medical and medical home care service in Fairfax Virginia. Our trained, skilled, and compassionate caregivers offer companionship to your elderly loved ones to keep them healthy and socially active.