Managing Your Diabetes at an Advanced Age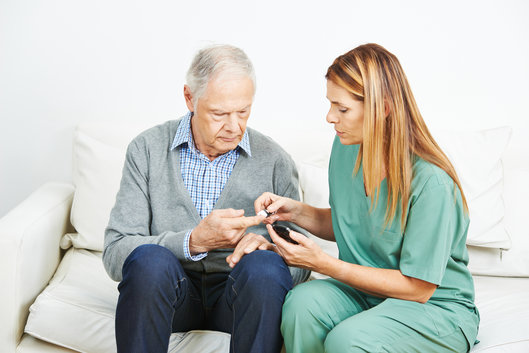 Diabetes is a chronic condition that affects the body's ability to produce insulin. Without insulin, the body is unable to properly maintain the glucose levels in the blood. This can lead to serious consequences if the blood sugar levels either go too high or too low, thus the importance of being able to maintain your diabetes through healthy lifestyle choices. Here are a few effective methods that you can try to keep your diabetes in check, especially during your golden years:
In-Home Care:
At an advanced age, it may be a good idea to consider healthcare services in Fairfax, Virginia.

Gateway Healthcare Services LLC

can help you maintain many aspects of your health, including your diabetes. We are able to administer regular doses of insulin, according to your doctor's instructions, while monitoring your health. Our services are hassle-free and convenient, so you do not have to worry about your diabetes because we got it handled. We are here to help you focus on the more important aspects of life.
Diet:
One of the most important things that you can do to maintain your diabetes is to make sure you have a balanced diet. You will need a diet that can help keep your blood sugar within healthy levels. This means limiting the amount of sweet foods you eat and increasing the amount of healthy alternatives, such as fruits and vegetables. However, it is important to always have easy access to sugary food just in case your blood sugar gets too low.
Exercise:
Exercise is another effective way to maintain your diabetes, especially Type 2 Diabetes. With routine exercise, you can improve the body's sensitivity to insulin. This improved sensitivity can help manage your glucose levels. Exercise can also help you maintain a healthy weight, which can go a long way in keeping your diabetes in check, among many other health benefits that make these activities well worth your time. Through our non-medical home care service in Fairfax, Virginia, we can help you exercise safely and effectively at your own pace.
Those are just three of the many different methods that you can use to keep your health and diabetes in check. Through our medical home care service in Fairfax, Virginia, we are committed to helping you live a healthier and more independent lifestyle. Your diabetes shouldn't stand in the way of that!